From The Heart – May 2021

Table of Contents
Top 8 Spring/Summer tips for our Furry Friends!
It's a beautiful day… finally! There is plenty to do with our furry friends now that we are back outside. Here are 8 top tips for things to watch out for along with some fun ideas for play and fitness.
4 Safeguard Tips
Dangerous temperatures inside cars 

 

A 70-degree day outside means the internal temperature of your car can reach 115 degrees in less than 30 minutes. Pets and children should not be brought along for errands or left in cars alone.    

Chocolate is toxic for pets.

 

Dogs(and kids) both love chocolate – in the spring and summer there are plenty of chocolate treats! It's best to keep the treats out of Fido's reach to reduce the chance of having to go to a pet ER. 

If your dog has ingested chocolate, call the

pet poison helpline

and contact your primary care veterinarian immediately. You will need to provide your dog's body weight, type of chocolate, and amount of chocolate that is missing.

Plants and Easter Lilies are poisonous for cats.

 

Beautiful plants need to be kept in a place cats can not reach, they are attracted to the leaves. Pets that eat plants can cause vomiting and a cat's kidneys to fail. Contact your veterinarian immediately if you notice pieces of leaves missing from your Lily leaves. 

We recommend you do a safety check on any plants you are considering bringing home to verify they are pet safe.  

Flex leads are dangerous.

 

Both people and dogs can be distracted on walks. Flex leads allow dogs to burst forward with a lot of force that can cause skin burns from the fast-moving cord or even jerk the handle right out of our hands.  A loose dog on a busy road can be a disaster. Keep dogs on a strong leash in good repair. 
That's enough scary stuff. Here are some fun tips to get out and play!
4 Fun Tips
Get outside!

 

Hit the hiking trails!   Check out some apps and sites,

 

https://www.alltrails.com/

or

https://www.traillink.com/

, to find out what works for you and your pet, the difficulty of the trail and the estimated time to complete it.  

Visit a local restaurant, brewery, or winery that allows pets.

On warmer days, set up a sprinkler or visit a dog-friendly pool with your pet! 

Check out local listings for dog parks.

 

Most map apps can search your location and there are usually plenty to choose from. Your dog is always ready to play and they will learn important social skills being around other dogs. Be safe, of course, and keep overprotective dogs at home.

Learn a new sport or skill together.

 

This is a great way to bond with your dog. Things like herding, agility, flyball, and frisbee training are super fun and can engage all ages of family along with your dog.  Any of these sports activities will only make your dog smarter and more fun to be around!

Be a Good Citizen.

 

Train your dog to be a Canine Good Citizen® and even consider competing. Canine Good Citizens have mastered basic skills and doggy etiquette, like sitting on command or exhibiting good behavior around strangers. The American Kennel Club has training and certification programs to help you train your dog into an outstanding pet. Dogs that pass the CGC test get a special certificate from the AKC! Learn more at

https://www.akc.org/products-services/training-programs/canine-good-citizen/.
We hope these 8 warm-weather tips will make this an awesome season for you and your pet!
Name our Newsletter Winners – Mar and Wyatt!
Congratulations to Mar S. for taking first place in the Name our Newsletter contest and crowning the name of our newsletter, From the Heart! Here are a few words from Wyatt, her pup and our CVCA patient, himself…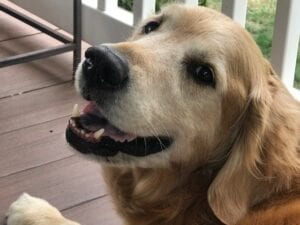 "Hello! My name is Wyatt and I love all of my friends at CVCA! I am an eight-year-old Golden Retriever and I LOVE life! Every day I look forward to going for a walk and riding in the car. I can open the closet door with my nose and get the collars from the hook for my sister Maddi and me. I also love belly rubs, snuggling with mom on the recliner, chew on my bones, and play tug and chase with Maddi. I can fly like the wind and I even love to run in the mud! Of course! Mom says I am all boy! In the summer I love to float around in the pool. I am on two Hallmark greeting cards and have been featured on some calendars and in some magazines too! I've appeared at a few Pet Expos and am on CVCA's web page "talking". Mom is really proud of me for all that but mostly because I am so lovable and sweet. Despite having some health issues that CVCA helps me keep under control, I am one of the happiest pups you would ever meet. My tail never stops wagging!" – Wyatt S., a patient of our CVCA Frederick and Leesburg locations
Paw-fect Patients – The Shepherd Family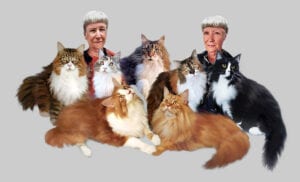 Pictured, from left to right: Whispers, Page, Airel, Skylar, Chessie, Dreamer, Ali'i, Dot, and Blaze
We spoke with Page Shepherd, whose Maine Coon family has seen our CVCA Richmond location for over 20 years! We're excited to share the Shepherd family's story and how preventative heart care from CVCA has helped them to live their best kitty lives, on and off the show floor!
YOUR pet can be the next Paw-fect Patient; have your pet featured in our newsletter and win a $25 Amazon Gift Card! Click here for more rules and to view the entry form. 
---
"Our family of two humans (Page & Dot, twins) and our feline fur babies started with CVCA over 20 years ago. We have been blessed in our life with our cats and fell in love with the Maine Coon breed. Over 20 years we started with our first MC boy, Chessie, and never looked back. We worked with our breeder, Pat Taylor, to learn how to show and learn more about the breed. We soon learned that Maine Coons are known to get HCM (Hypertrophic Cardiomyopathy), so we went to cardio clinics with Pat to learn more about this disease. That is where we met Dr. Jess Weidman and CVCA. His soft touch and demeanor with this breed brought us to decide that CVCA was for us. His staff was compassionate and caring and so this was the place for our family.
Five out of seven of our Maine Coons have been shown. They are grand premiers and altered. We decided to be proactive, and each one had their hearts checked by Dr. Jess Weidman. Two of our boys were diagnosed with HCM and we lost one (Blaze) at 10 years old after being diagnosed at 5 years old. Our 2nd (Skylar) was just diagnosed at 5 & 1/2 years.  Thank goodness for CVCA helping us learn that a heart condition can be managed, as Blaze lived 5 years after diagnosis (lost to cancer).  We are blessed that we have CVCA to help us keep that joy, love, and laughter that our Maine Coons bring us. There is no other place that comes close to the care from CVCA. Thanks to Dr. Jess Weidman, Dr. Emily Westphal, and the CVCA staff in Richmond, VA. We highly recommend and you rock!!" – Page Shepherd, Client of CVCA Richmond